This page outlines all the ways you can use Siri to create and view to-dos in Things on your mobile devices.
Through voice commands, you can dictate an entire to-do in one go or set in motion an action that creates a new to-do for you based on parameters you've predefined. Here's a rundown of your options:
Speaking to-dos with Siri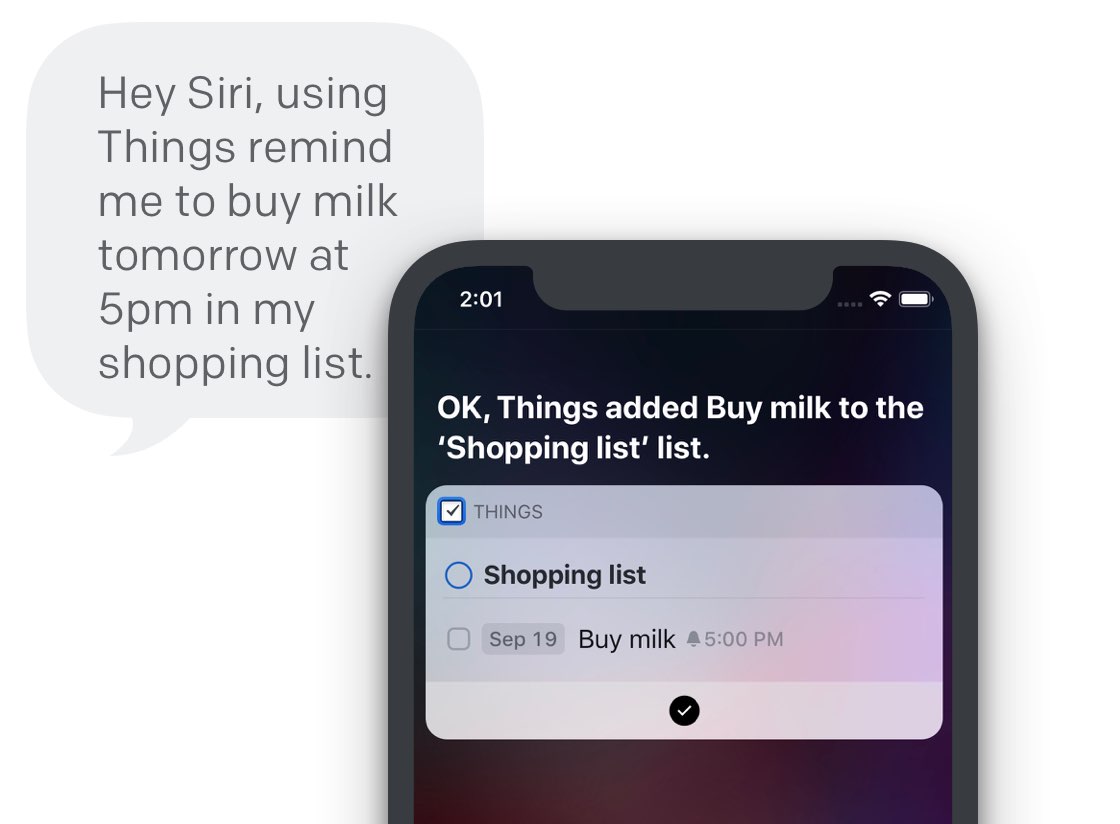 You can speak an entire to-do by saying its title, giving it a reminder, and then assign it to a specific list. This is the fastest way to capture an idea in Things without having to type anything by hand. Here's what you can say:
"Using Things, remind me to buy milk tomorrow at 5pm in my Shopping list."
Siri will create a new to-do with the title "Buy milk" in your Shopping project and a reminder will go off tomorrow at 5pm to nudge you to stop by the store.
Learn more about dictating to-dos.
Siri Suggestions (requires iOS 12)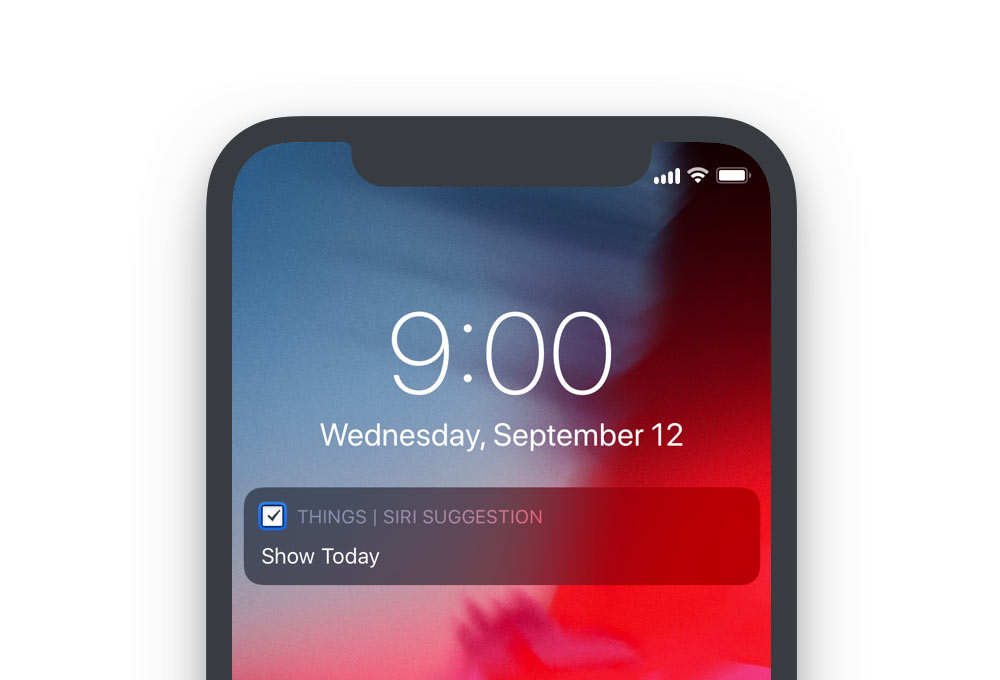 Siri will learn your routines and begin suggesting things that you might want to do. For example, if you open your Today list every morning around 9 AM to look over your to-dos, Siri will eventually pick up on this – and the next morning at 9, you might be greeted with a new "Show Today" shortcut right on your Lock screen. Tap the shortcut, and you're instantly brought to the right place within Things.
Learn more about Siri suggestions.
Creating to-dos with presets (requires iOS 12)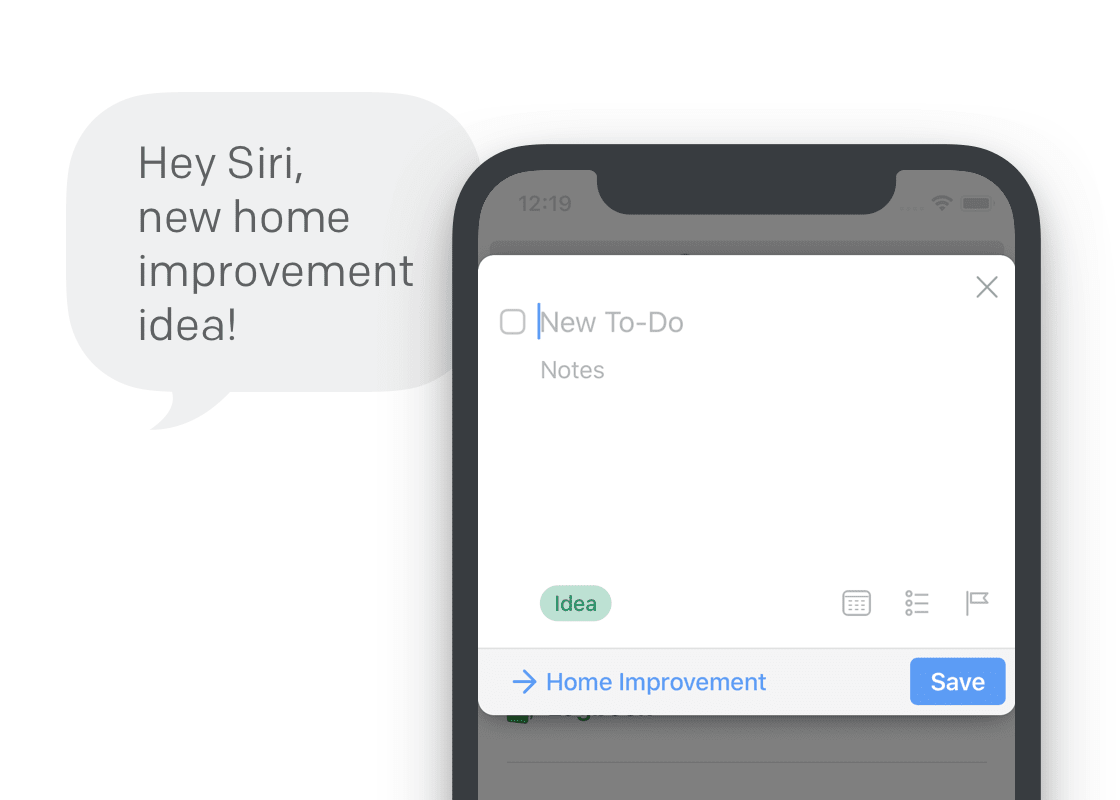 Are you creating similar to-dos over and over? With a custom voice-command (requires iOS 12), Siri can help speed up the process in situations like these:
Adding new to-dos directly to the

Today

list instead of the

Inbox

.
Adding new to-dos directly to a specific

project

or

area

.
Adding to-dos with a specific tag already prefilled.
In the shortcut builder in Things' Settings, fill out everything that's always the same for this particular type of to-do, then add it to Siri and speak your own phrase, like:
"New home improvement idea."
Now the next time you realize something needs to be done around the house, you can just say your voice command, and you'll be presented with a prefilled Quick Entry popover. All you need to do is enter the title and hit save.
Learn more about using presets with Siri.
Creating ready-made to-dos (requires iOS 12)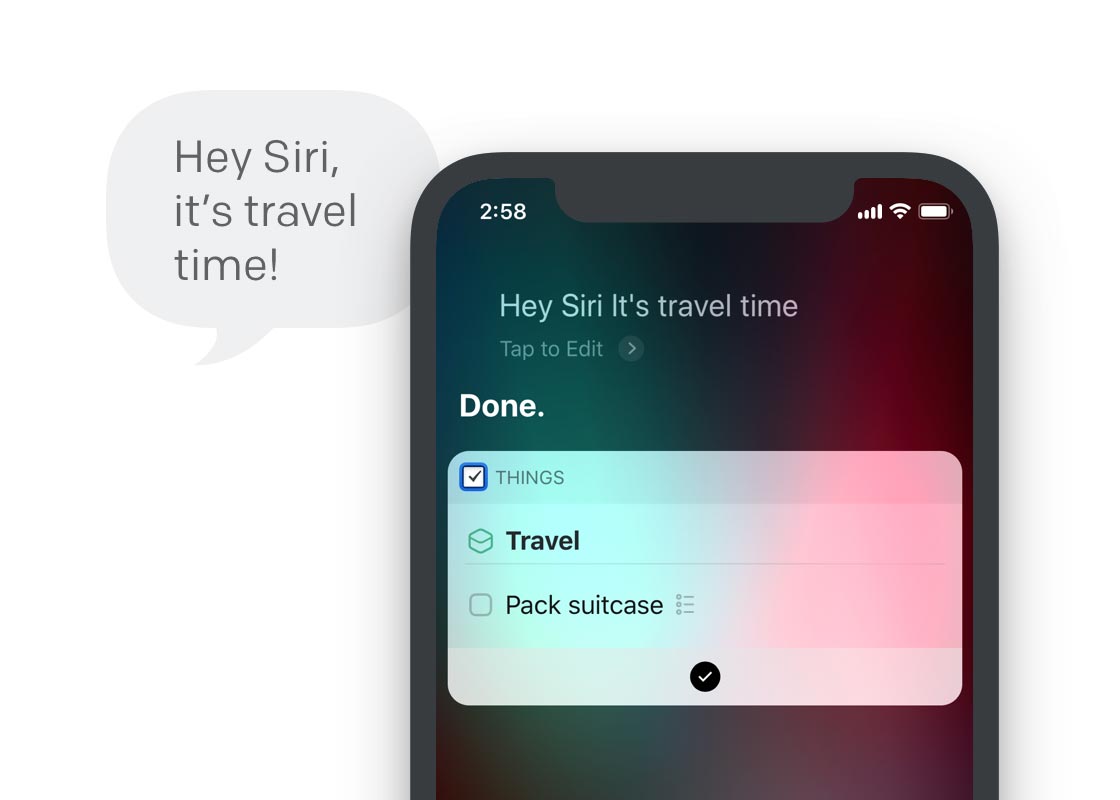 For those things that always stay the same, you can set up a ready-made to-do that already contains all the information you need. If you travel a lot, why not prepare your packing checklist once, so in the future you just have to say:
"It's travel time."
Siri will now trigger an action in Things that creates a new to-do in your Today list with the title "Travel checklist" and which lists all the items you need to bring on your upcoming trip.
Learn more about creating ready-made to-dos.
Quickly viewing a list (requires iOS 12)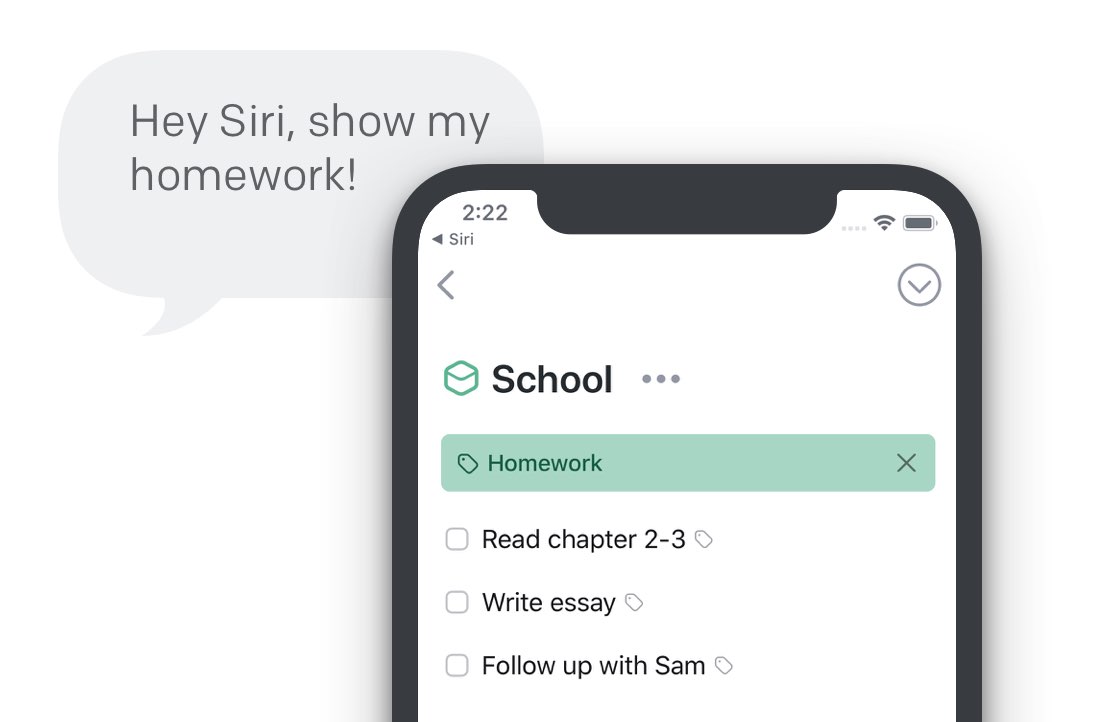 Siri can help you to quickly access a specific view: instead of manually searching for your School area and filtering it by the tag Homework, a custom voice-command can do it for you:
"Show my homework!"
Learn more about custom list views.
Using Apple's Shortcuts app
All the shortcuts you create in Things can also be used as "actions" in Apple's own Shortcuts app. Learn more about Shortcuts app.